| | | |
| --- | --- | --- |
| Helmet Vaccine Newsletter- June 2011 | | |
Greetings road safety stakeholders,
Last month we participated in the global launch of the Decade of Action for Road Safety (2011-2020), and this month we have been busy putting our plans into action. Through the Global Helmet Vaccine Initiative, AIP Foundation will play a key role in the Decade of Action for Road Safety in Vietnam, Cambodia, Thailand, Uganda, and many other developing countries worldwide. I look forward to increased participation from the international community in efforts to mitigate the impact of road traffic crashes.
Sincerely,
Greig Craft
President/CEO
AIP Foundation/ Global Helmet Vaccine Initiative
1. Global
2. Vietnam
Uganda Helmet Vaccine Initiative Announces Hard Launch
May 30, 2011, Kampala
Pop singer Bobi Wine models a Uganda Helmet Vaccine Initiative helmet
The Uganda Helmet Vaccine Initiative, led by Arrive Alive Uganda and the Automobile Association of Uganda, announced its launch at a press conference in Kampala. The press conference featured pop star Bobi Wine, who spoke to youth and boda-boda drivers (motorcycle taxi drivers) about the importance of wearing helmets.
"I am appealing to the public, the ghetto youth and my guys the boda boda riders, to embrace helmet use without police enforcement. Let us all behave responsibly," said Bobi Wine. "Helmet use reduces fatality by 42% and severe injury by 69%."
In 2010, 2,954 lives were lost on Uganda's roads; 44 percent of these deaths involved motorcycles. Research shows that 30.5 percent of Ugandans wear helmets when riding motorcycles in Kampala and only 22.8 percent do in Mbale. Based on this research, the Uganda Helmet Vaccine Initiative will create an action plan to promote helmet use and road safety under the five-pillar model of the Global Helmet Vaccine Initiative: public awareness education, technical assistance, targeted programs, helmet provision, and research. The Uganda Helmet Vaccine Initiative is a subsidiary of the Global Helmet Vaccine Initiative, an international road safety coalition that promotes universal helmet use in developing countries.
AIP Foundation Delivers Presentation at the International Conference on Spinal Cord Medicine and Rehabilitation
June 8, 2011, Washington, D.C.
AIP Foundation representative Bella Dinh-Zarr delivered a presentation titled "Affordable Helmets Make Helmet Laws Successful" at the 2011 International Conference on Spinal Cord Medicine & Rehabilitation in Washington D.C. Her presentation outlined the steps leading up to Vietnam's passage of a mandatory adult helmet law in 2007, including AIP Foundation's national public awareness campaign and grassroots community programs. She further discussed the Global Helmet Vaccine Initiative's adoption of AIP Foundation's successful model in Vietnam to be implemented in developing countries worldwide.
News Update
Concerted Effort Required for Road Safety
May 26, 2011, Hanoi
The Prime Minister sent a dispatch to all relevant ministries urging them to collaborate to improve road safety. He recognized 20 provinces that have decreased road traffic crashes and fatalities in recent years, including Hanoi, Ho Chi Minh City, and Dong Nai province where AIP Foundation has implemented many programs including its Safe Routes to School, Helmets for Kidsg, Safe Kids Walk This Way, and Click on Safety e-Learning programs.
For more information, please see the full article here.
AIP Foundation Hosts Road Safety Quiz at Children's Day Celebration
May 30, 2011, Hanoi
AIP Foundation representatives and helmet mascot perform on stage
On Children's Day, AIP Foundation conducted a game show quiz on stage to engage students in road safety questions and test their knowledge about helmets at a People's Committee celebration in Cau Giay District. More than 1,600 students from primary and secondary schools in Cau Giay participated in the event. The questions focused on correct or incorrect helmet use and common myths about child helmets. Each student who answered a question correctly received a free Protec helmet as a prize. This event was part of AIP Foundation's 3-year "Head Safe. Helmet On." campaign to promote child helmet use in target areas in Vietnam, including Cau Giay District in Hanoi.
AIP Foundation Partners with Ho Chi Minh Open University for Driving Skills Focus Groups
June 2011, Ho Chi Minh City
Open University students conduct focus groups
In 95% of road traffic crashes, the driver is at fault. To improve drivers' skills, AIP Foundation is creating a series of short educational video clips for new and experienced drivers on safe driving behaviors. The videos will address common driving issues relevant to both motorcycle and four-wheeled vehicle drivers.
AIP Foundation recently finished the first phase of the program, in which researchers conducted focus groups with adult drivers to better understand their knowledge and skills and identify common dangerous driving behaviors to target gaps in driving knowledge. AIP Foundation partnered with Ho Chi Minh Open University sociology students who served as moderators of focus groups, which included high school students, university students, parents, workers, and traffic police.
Cam Thuong Primary School Illustrates Best Practices for Helmets for Kids Program
May 24, 2011, Hai Duong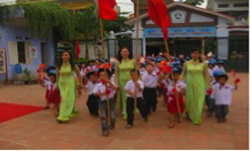 Teachers and students march with national flags and helmets at launch ceremony
Cam Thuong Primary School is a Helmets for Kids school that has been consistently sponsored by Diversey Hygiene since 2007, with programs providing replacement helmets and helmets to new students every year through 2011. The school has maintained a high helmet use rate, measured at 88.3 percent in May 2011, and has demonstrated many best practices that can be replicated at other Helmets for Kids schools. These practices include engaging the principal and teachers to take ownership of the program and conduct their own activities, forming a student and teacher club to promote road safety, and expanding activities into the local community to spread awareness beyond the school.
The Helmets for Kids program is AIP Foundation's signature school-based program, through which a sponsor "adopts" a primary school and provides helmets and road safety education to students and teachers. Helmets for Kids has been implemented in Vietnam since 2000 and AIP Foundation performs yearly evaluations to improve the program. These best practices will be incorporated into the Helmets for Kids program for the 2011-2012 school year.
News Update
Thailand Launches 10 Year Road Safety Campaign
May 11, 2011, Bangkok
Thailand launched a ten-year road safety initiative with the goal of achieving 100 percent helmet use during the Decade of Action for Road Safety. The Thai government has named 2011 "The Year of the Crash Helmet" and has required all government ministries to promote universal helmet use in their domains.
For more information, please see the full article here.
June 6, 2011, Hanoi
Thai delegation representatives meet with Chief Secretariat of NTSC, Thanh Van Thanh, and AIP Foundation president Greig Craft
The Asia Injury Prevention (AIP) Foundation hosted a Thai road safety delegation of senior government officials from the Department of Disaster Prevention and Mitigation (DDPM) and Thai private sector stakeholders in Hanoi. The delegation visited AIP Foundation's non-profit Protec helmet factory and discussed the possibility of developing a similar non-profit helmet enterprise in Thailand.
In addition, the delegation met with the Chief Secretariat of the National Traffic Safety Committee, Thanh Van Thanh, and exchanged ideas and best practices. Both countries have similar goals to improve road safety and save lives.
The Thai delegation included representatives from the DDPM, Honda Company Limited, the Road Accident Victims Protection Company Limited, Naresuan University, the Accident Prevention Network, and the Thai Motorcycle Enterprise Association.
News Update
Social Marketing Workshop on Road Safety
In Cambodia, more than 90% of road traffic crashes are caused by human errors. As part of the National Road Safety Action Plan (2006-2010), the National Road Safety Committee (NRSC), a key AIP Foundation partner, conducted public awareness campaigns to promote safe driving behaviors. Public awareness campaigns will continue to be the NRSC's priority in the government's ten-year road safety plan (2011 to 2020).
For more information, please see the full article here.
June 17, 2011, Phnom Penh
Officials of the General Commissariat of National Police meet with AIP Foundation representatives
A delegation of AIP Foundation leadership including the President, Executive Director and Global Development Director visited Cambodia to advocate for the government's passage of a passenger helmet law and to explore partnerships with key government agencies, embassies, development organizations, and the private sector. These partnerships will be critical for the Cambodian Helmet Vaccine Initiative's three-year campaign to increase passenger helmet use.
In 2010, road traffic crashes were the largest non-communicable-disease burden in Cambodia causing 1,816 fatalities and costing the country approximately 279 million USD. Motorcycles are the main source of road traffic deaths and injuries and helmet-less riders are a high-risk group for traumatic brain injuries. AIP Foundation launched the Cambodia Helmet Vaccine in May 2010 to promote universal helmet use, with a particular focus on passenger helmet use and children.
During the visit, AIP Foundation met with senior representatives of General Commissariat of National Police to review the existing Memorandum of Understanding and discuss a new 3-year partnership. Moreover, the Global Development Director met with the National Road Safety Committee Deputy Secretary General and their senior technical officials to offer consultation on the 10-year National Road Safety Policy.